*********************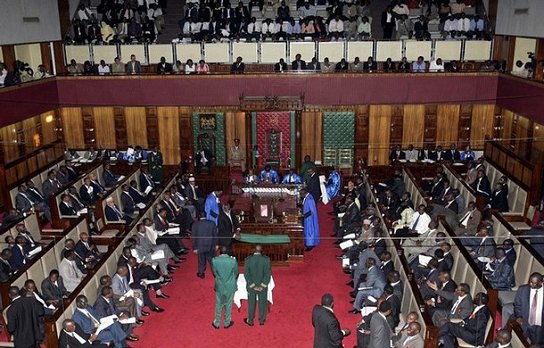 Picture of the Parliament of Kenya in Session
Kenya's Influence with Obama - KENYA's Parliament's own words
Here are some comments of the Kenyan Parliament from Nov. 5, 2008, on the morning after Barack Obama win of the US Presidential election on Nov. 4
(comments are from the 41 page document, with emphasis added):

Date : Wednesday, 5th November, 2008
second Source

Dr. Khalwale: On a point of order, Mr. Deputy Speaker, Sir. You have heard none other than the Leader of Government Business acknowledge that because of Obama's win in the United States of America (USA), the House is crippled. Could we allow him to move a Motion for Adjournment so that we could also continue the celebrations of having a Kenyan ruling the USA? I humbly request!

Ms. Odhiambo: … Mr. Deputy Speaker, Sir, the President-elect, Mr. Obama, is a son of the soil of this country.

Mr. Deputy Speaker: President-elect has not been sworn-in yet. The election of President-elect Obama is of utmost national importance to the United States of America. Ms. Odhiambo, you are a lawyer. You had better be very careful where you transgress between watching your own sovereignty and what can be interpreted in some quarters as some form of treason.

COMMUNICATION FROM THE CHAIR CONGRATULATORY MESSAGE TO PRESIDENT-ELECT BARRACK OBAMA:
Hon. Members, as you may be aware, the people of the United States of America have just had a historic election where the son of this soil, Barrack Hussein Obama...

Mr. Chanzu: … I highly congratulate Obama and salute Americans, Black, White and other races, for what they have done in showing the world that a leader can come from any community. I also want to congratulate Kenyans for the support they have shown. It showed the Americans that we were supporting our own.